Back
The Estes Park Resort All-In-One Wedding Experience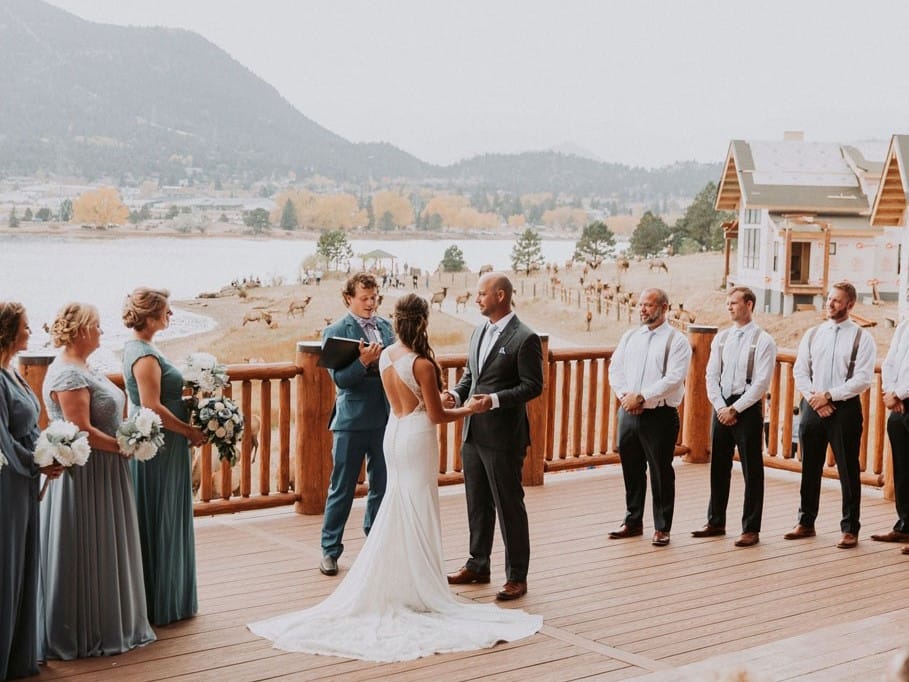 Your wedding is a dream come true, and there is no better venue for that dream than Estes Park Resort. Estes Park is situated on Estes Lake, Colorado, with spectacular views of the Rocky Mountains, the Continental Divide, Twin Sisters, and Long's Peak, a perfect backdrop for your perfect day.
Your wedding day will have that extra touch of magnificence at The Estes Park Resort. Choose from truly incredible spaces such as the Lakeside Pavilion or the Ballroom for what is sure to be an unforgettable occasion. All options assure a romantic, beautiful, all-in-one wedding experience for the bride/groom, their family, and guests.
From vendor selection to curating the perfect menu, our team of experienced wedding planners and hotel staff will be with you every step to ensure your wedding day exceeds your expectations and is everything you dreamed of.
Estes Park Resort has Special Settings for Your Special Day
We have two ceremony venues and two reception venues. All with one of the most spectacular backdrops in the world.
The Lakeside Pavillion
This ceremonial venue is one of a kind. At 2800 square feet, this picturesque lakeside setting is nothing short of dazzling. This is a place where your dreams can be realized. This elegant location looks out over Estes Lake with a spectacular view of the Rocky Mountains. You will be the centrepiece of this glorious setting. Make the great outdoors part of your ceremony. It's more than a moment; it's a lasting statement.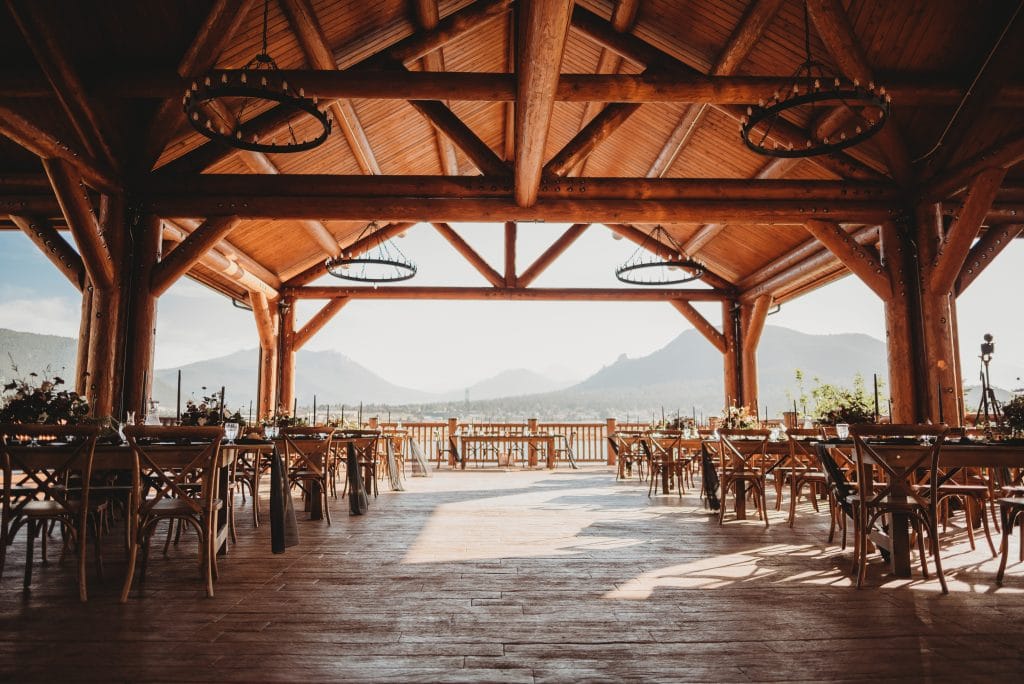 The Outdoor Gazebo
Our sun-soaked Outdoor Ceremonial Gazebo is one of the most sought-after Rocky Mountain wedding locations. This spacious venue is right on the shores of Lake Estes, with a backdrop of the Rocky Mountains. The Outdoor Ceremonial Gazebo is an ideal setting as big as all outdoors and a perfect reflection of your commitment to each other. This ceremonial venue seats up to 120 comfortably, and the gazebo is a beautiful and grand structure to stage this significant moment.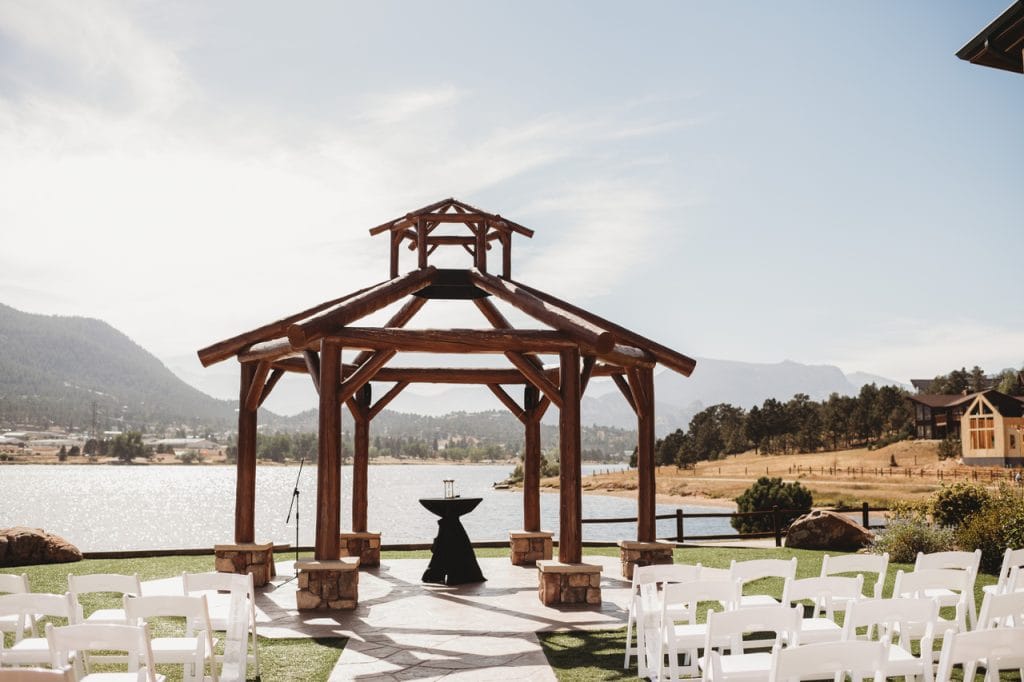 The Ballroom
The grandeur of this ballroom makes for a stunning reception. The floor-to-ceiling windows bring in a spectacular view of Estes Lake and the Rocky Mountains. Massive wooden beams frame this gorgeous view, and the entire ballroom epitomizes style and elegance. With room for 130 guests, this space is both sophisticated and versatile. Enjoy family and friends in a glorious setting for the celebration.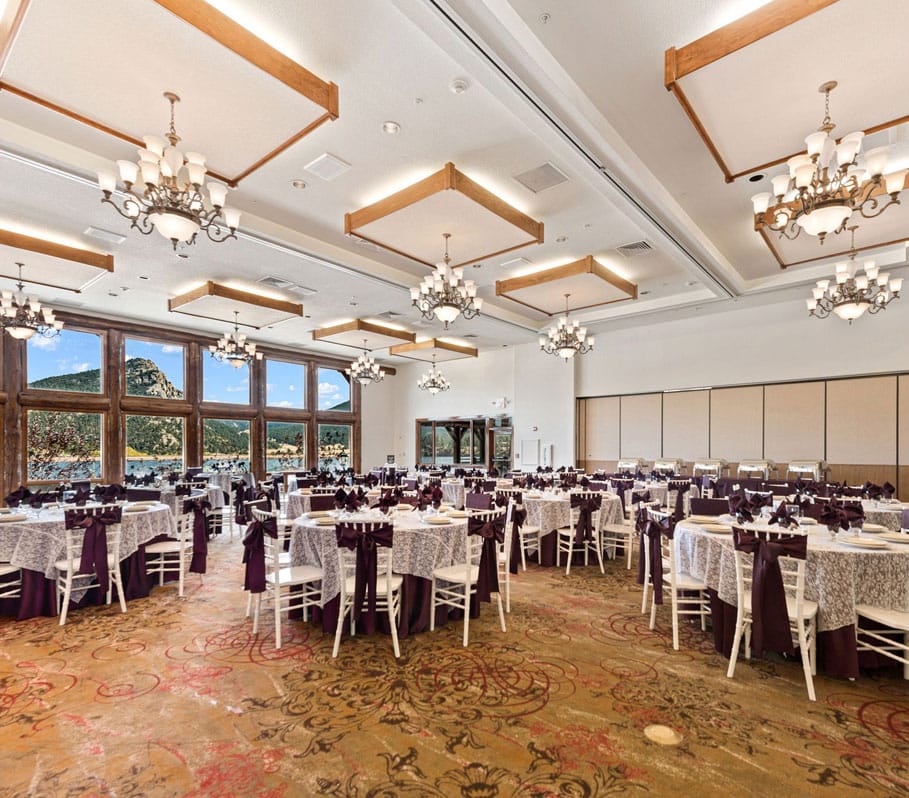 The Tuscan Room
The Tuscan Room is cozy and intimate, with a fireplace that enhances the warmth and elegance you're looking for in a rehearsal or wedding dinner. With seating for 40 guests, it offers breathtaking views of Estes Lake and the surrounding mountains. This special setting allows you to set a tone that is both intimate and personal.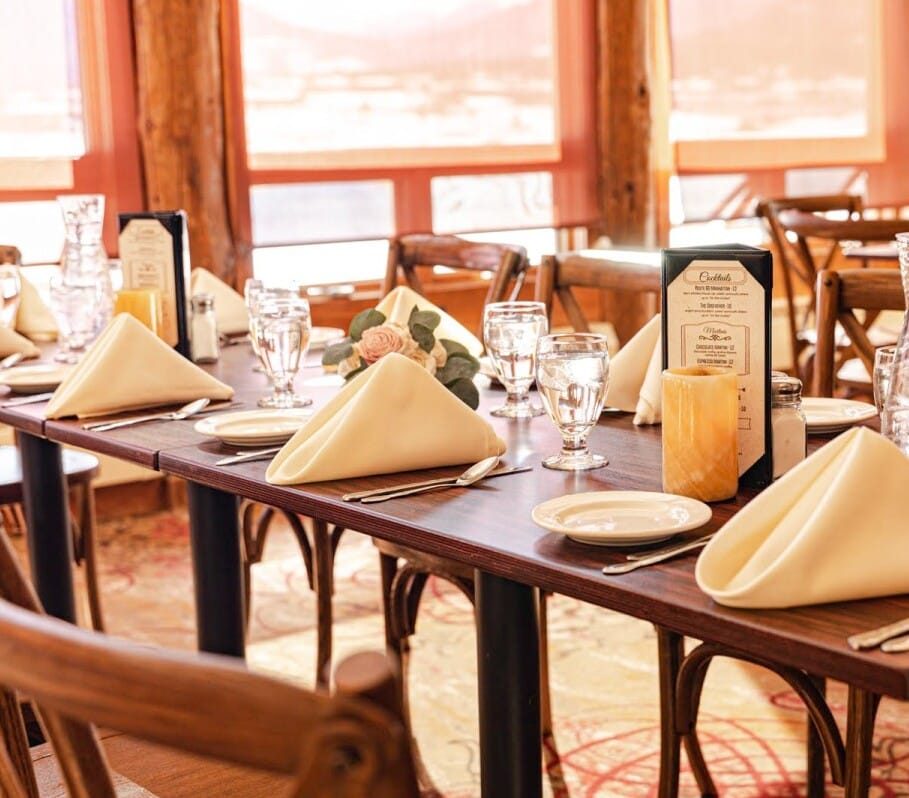 Perfection is On the Menu
Executive Chef Ken Thomas is a master at crafting truly memorable dishes. His creations perfectly accompany your event, and the restaurant can also be used for your dress rehearsal dinner. As the only venue on Lake Estes, your special and exclusive event will surely be perfect and a unique experience.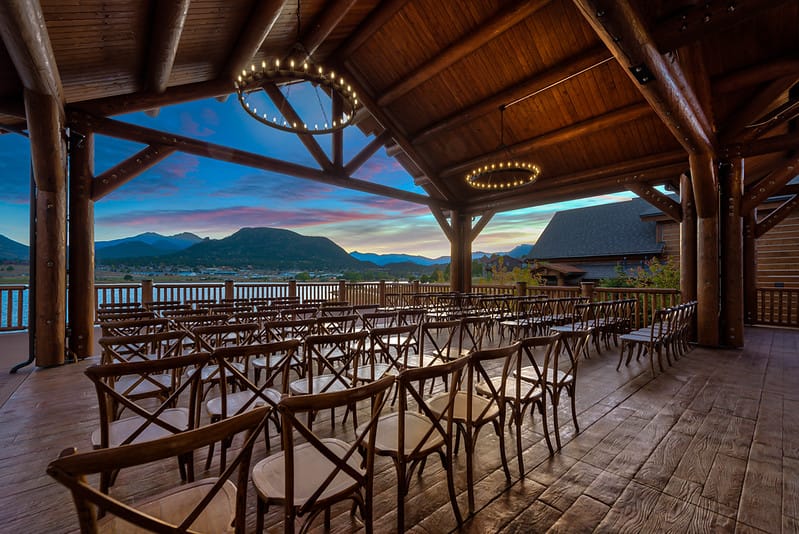 Your Lake Estes Park Resort Wedding
Our wedding venue combines a beautiful, romantic feel with a backdrop of stunning views of the gorgeous mountain scenery around us. Making it a picture-perfect location to have your best day and create lifelong memories at Lake Estes Park Resort.
There is even an onsite spa at the Estes Park Resort. Thq Qi (pronounced "chee") Lounge is perfect for your bridal party to start the wedding festivities off right, before the big day, or to relax afterward. Book a Qi-Party or add a Qi Lounge Duet Experience to your spa session. The spa even has nails, lashes and waxing services.
There is little left for you to provide in this mostly all-inclusive venue. For those who have traveled to this destination to celebrate your union, there are many lodging options to offer. Plus, there are nearby cabins and some very special bridal party accommodations. You may even consider spending your honeymoon at this magnificent Colorado Rocky Mountain Resort.
Start planning the wedding of your dreams at the Estes Park Resort today!

Back
Recent Post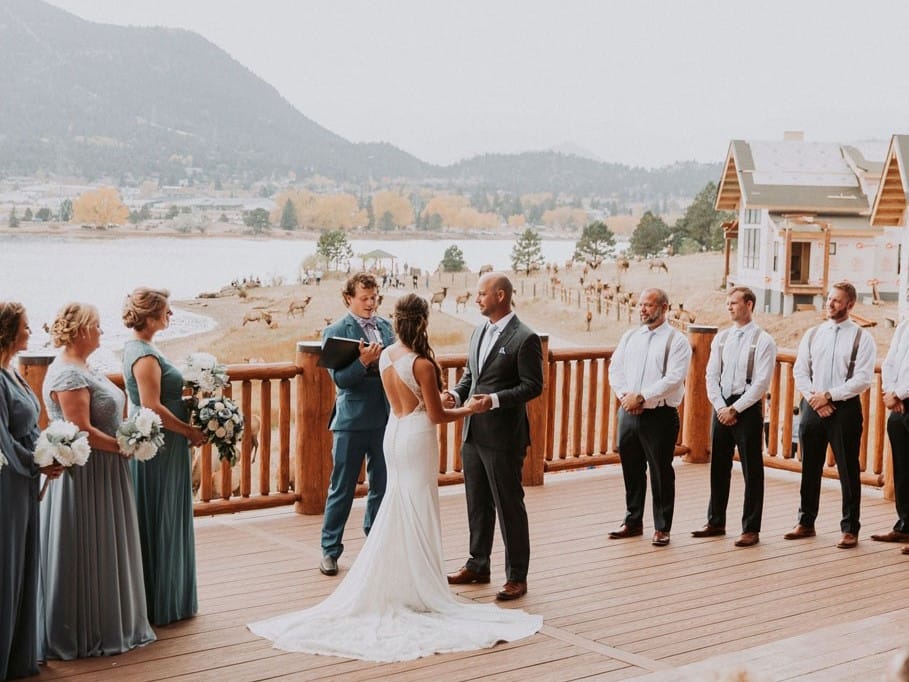 Your wedding is a dream come true, and there is no better venue for that dream than Estes Park Resort. With multiple venues, an onsite spa for your bridal party preparations and wedding accommodations for all of your guests, the Estes Park Resort offers the best all-in-one wedding experience.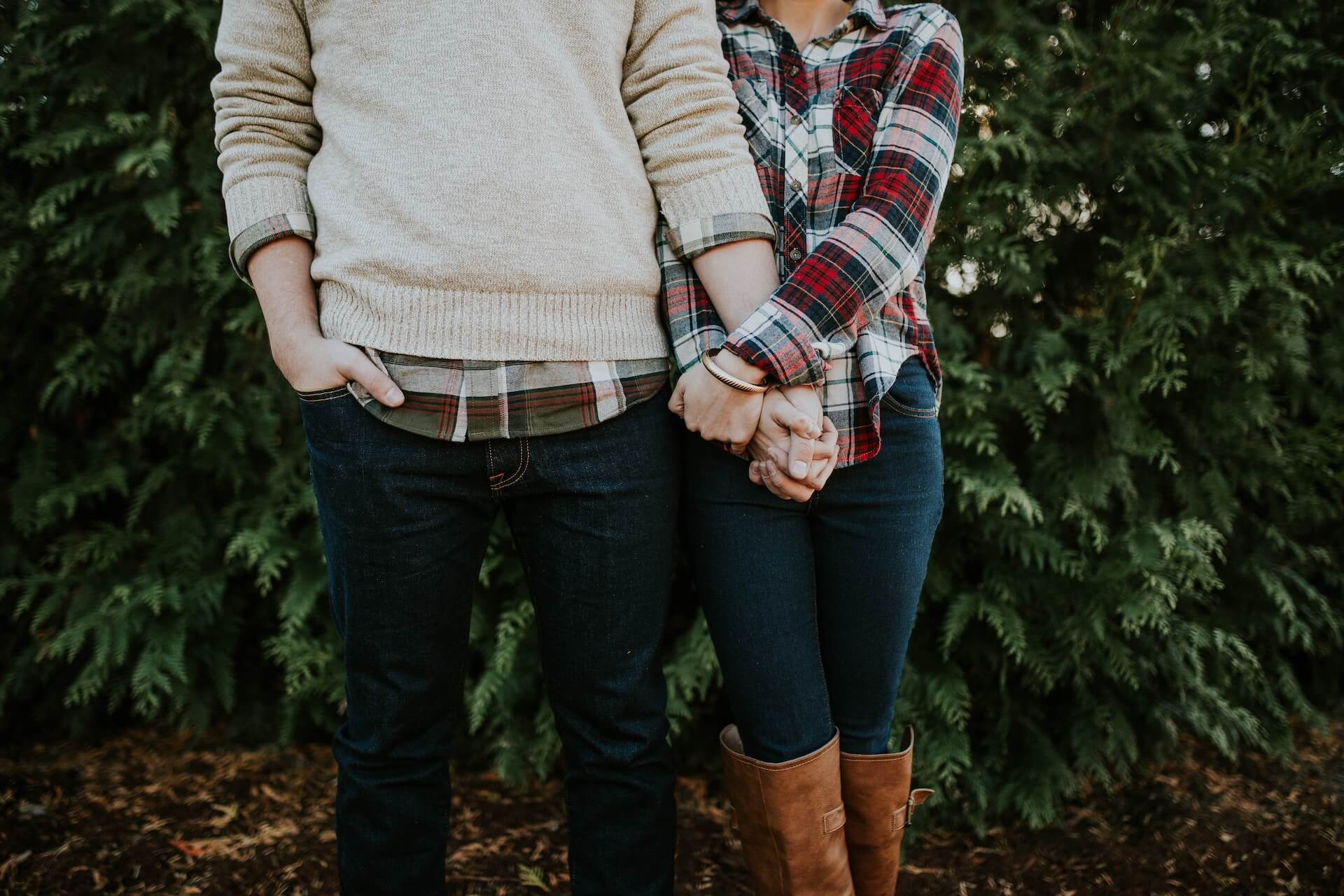 Estes Park will be a place to remember for both of you, with plenty of special moments to share, and many opportunities to begin or take to the next level, life, with that extra special person. Enjoy the numerous activities for that perfect romantic getaway in Estes Park.
Newsletter